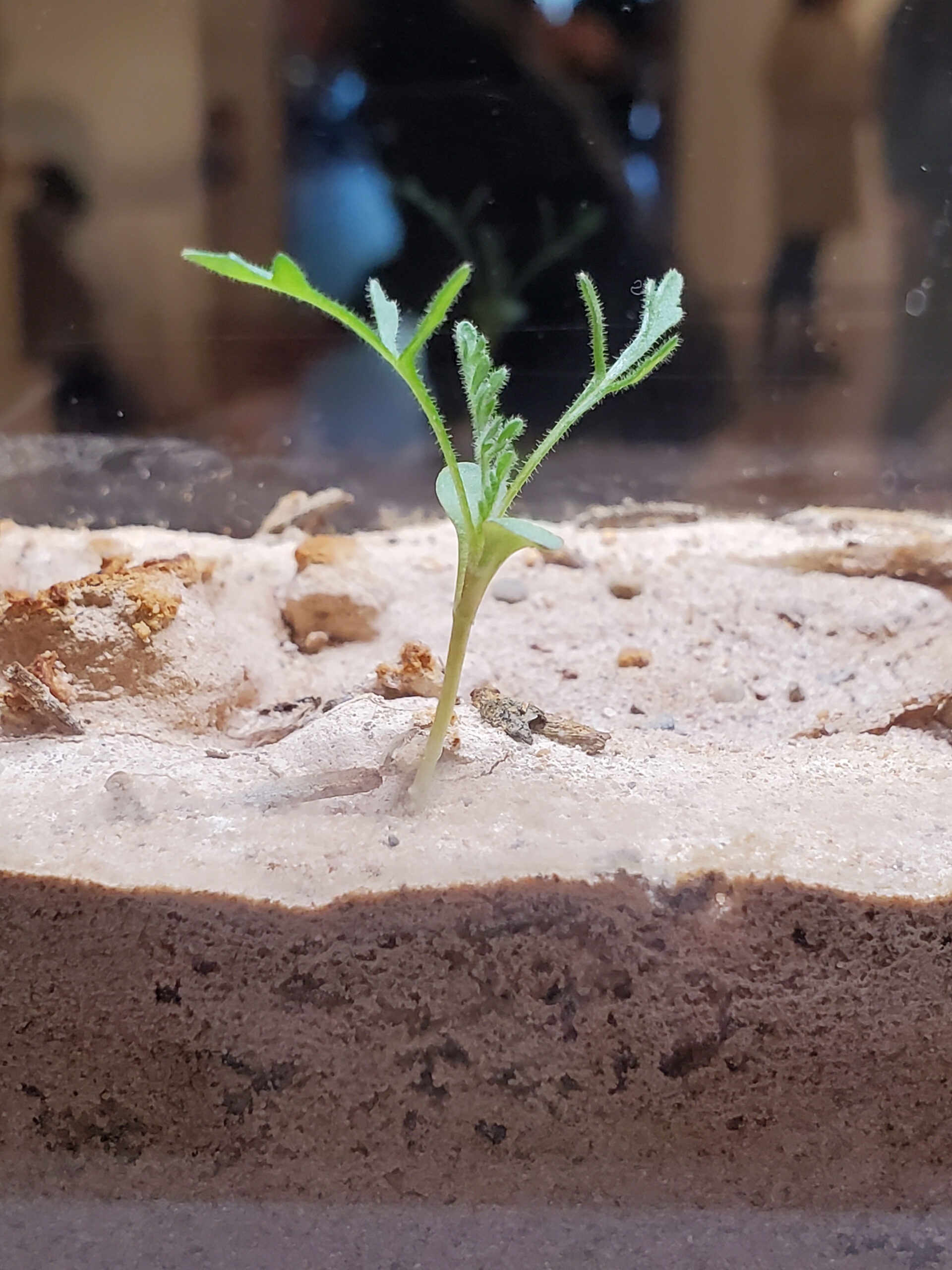 After a fun four months at the Marjorie Barrick Museum of Art at UNLV, my piece "What the Desert Already Has" is moving to the Lost City Museum. Located in Overton, NV, this museum houses archaeological artifacts from the Mormon Mesa and Virgin River Valley area.
About the Piece
I originally created this piece for the exhibit "Modern Desert Markings," responding to Michael Heizer's land art piece "Double Negative." It focuses on the small, time-consuming effort of life in the desert, from seed to plant. On a field trip to the site, I collected soil from Mormon Mesa, north of Las Vegas, NV where Michael Heizer created "Double Negative." I brought this soil to the Museum to place in two 1/120 scale trenches which I irrigated and lit with grow lights to encourage dormant seeds to grow.
Intended as a long-term, slow performance this piece focuses on the small, persistent efforts of desert life. It contrasts with the bulldozing, explosions and mark-making of 1970s land artists like Heizer. To situate with the seeds I hoped would grow, I created a botanical poster from plants I found while out on the Mormon Mesa and by citizen scientists on iNaturalist.org.
Going Back to Mormon Mesa
I'm so excited that co-curator Katie Hoffman made the connection with the Lost City Museum so that this piece could continue to grow. It's like the soil is going back to where it came from! Maybe at the end of the exhibit, I will take the trek back out to the "Double Negative" location and return the soil to its rightful place. The staff at Lost City has been generous to offer a space and some time for this work to be shared in a more relevant location. They'll even be carrying the Mormon Mesa botanical poster and postcards in their gift shop!
Check out video documentation of this piece below.