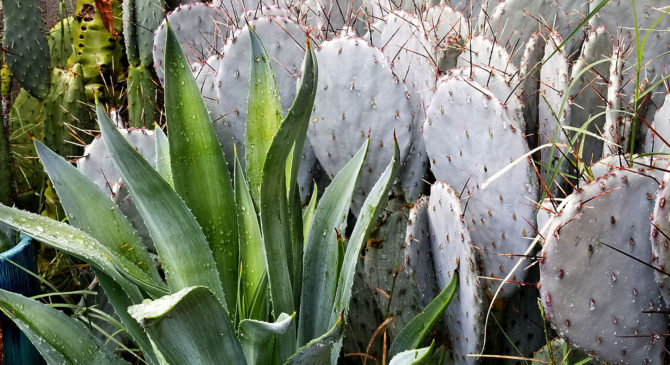 I love rainy days in Phoenix. Especially hopelessly, tragically, unforgiving rainy days in Phoenix. We switch gears. We don't seem to know what to do. And, instead of bringing sadness, it renews hope. It makes me thinky think. Lately, I've been thinking about how to bridge the gap between intent awareness in an art space and the generalized tuning out we do in public. My problem with most public art is its garishness and screaming for attention. But then it occurred to me that this may be the case for a reason.
The "pay attention" rule in an art space
Most people don't casually walk into an art space with the same level of non-attention that they do at a grocery store. You know when you're walking in there that there are objects or installations or paintings or SOMETHING that is there, specifically for you to notice and maybe contemplate. It's what intimidates most from even stepping in a gallery or museum. People are afraid they're going to do it wrong. I always encouraged people that whatever you're thinking isn't wrong, and you certainly must be thinking something. Once I bullied people into an answer (after they'd say "I don't know anything about art"), they'd tell me how they felt or what they thought. They rendered an impression or opinion because the space, and me nagging them, implies that they do so.
The "pay attention to me" rule in public art
I'm waiting at a bus stop. I'm walking past an office building. I'm out in a park. There is some kind of gigantic something that is built, sturdy and worthy of withstanding the elements. It is a thing. There is an artist statement somewhere and a name. There are maybe even the sponsors. People must think "this must be public art and it must be important." And really, the hoops people have to go through to create a public art project generally would mean they're right. Countless levels of proposal, approval, schematics, approval, sketches, materials, approval, budgets, team members, review boards, approval, licensing, policies, and approval. There are many points where people involved stamp the public art with a somewhat official "this is the public art we're standing by."
The artist might be satisfied with the final result. In the end, they may actually just feel as if they've been through a tornado and couldn't remember what their initial intention was. What they did find was that the work had to be noticeable and worthy of spending so many hours and levels of review on it. There had to be evidence that all this was worth it. So there's that thing and, sometimes, no one knows quite what they think about it or whether it really succeeded.
Paying attention with public art without saying "pay attention to me"
This is where I'm stuck. How do we generate attention in a space where the prime directive is often to block out? Whether we're blocking out noise or other people or the mundane necessary routines of life, how can we transform those spaces and moments into opportunities to notice something? Are the existing approaches with most public artworks just pandering to overt and spectacular tendencies of public spaces? Most of our lives are spent quietly. Most of our dialogue occurs internally. We have the ability to look closer and investigate, yet we tend to leave this out of our public practice. Our mind might even desire it in public spaces. So, how do we create a public art that leads a person on the path to quiet discovery and careful consideration like they might encounter in an art space?