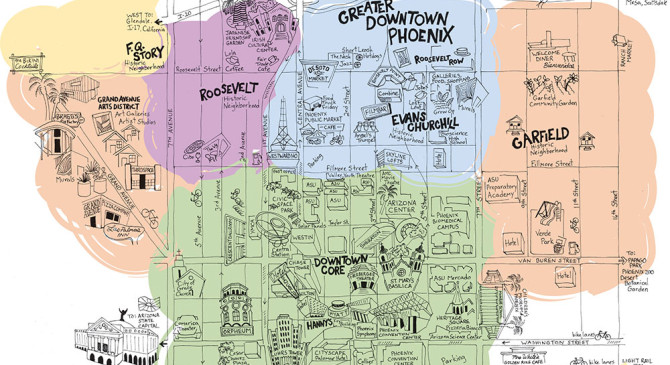 It's true. I was surprised as anyone. I made a few maps, and people actually like them!
Back in November, I was hired by Downtown Phoenix Inc, via Creative Circle. They are a staffing agency I specifically reached out to because I heard they were looking for:
someone who could draw a map
someone who had experience as a designer (knew Creative Suite and all)
someone who knew downtown really well
It seemed like if they DIDN'T hire me, I might have to start questioning my concept of self.
Freelance jobs can be touchy. I'm not really a person who should be relating to clients very often. Fortunately, the people at dtphx.org are absolutely awesome AND did I mention that they also liked my ideas? It seemed like I had total creative freedom on this project. Even though it was definitely more a design/artist-for-hire kind of situation, I couldn't have had more fun working on it. I was able to call out some of my favorite places in downtown and share my passion for what makes this city so unique. I wanted to see desert landscape, feature the history and highlight some of the unique architecture. I even tried to include my comprehensive knowledge of all the downtown coffee shops but we decided the one map was getting a bit too crowded.
Just a few maps
I created 2 maps. One was of the BID area in Downtown, made more for tourists to use to get around the downtown core. The other was of the Greater Phoenix area that extends into South Phoenix and up to McDowell Road. I learned even more about the area than I had known before. I also feel excited to know that all sorts of people will be using these maps to find their way around the city. Artwork doesn't often get such huge exposure.
Part map and part art piece, a new hand-drawn map and fact sheet celebrates downtown's eclectic neighborhoods, history and landmarks.
Source: 10 Downtown Phoenix Fun Facts (And a Whimsical New Map, Too) – Downtown Phoenix Inc.